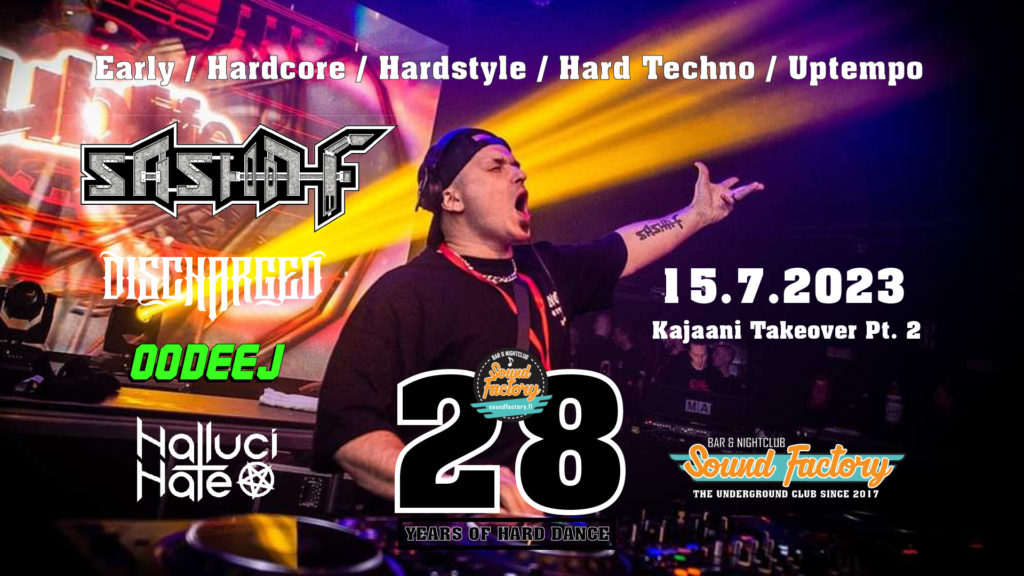 Hanaa! Heinäkuussa räjähtää! Lauantaina 15.7.2023 meillä on luvassa aivan järkyttävän kova tapahtuma rankemman konemusan ystäville. Tähän tapahtumaan on buukattu vieraileviksi DJ:ksi paikallisen osaamisen lisäksi sen verran kovia mestareita, että oksat pois!
Luvassa on erityisesti tekno ja hc-faneille herkkua, kun luvassa on tuntikausia kovaa teknoa, hardcorea, raw:ia ja styleä. Seteissä on mukana niin early ja style klassikoita kuin uunituoretta settiä myös artisteilta itseltään.
Ilta aloitetaan kuitenkin vähän pehmeämmin ja alussa kuulet myös Acid / Hard Technoa. Loppuilta on varattu niille kaikista kovimmille tykityksille ja isommille BPM-lukemille.
Tapahtuman vierailevat esiintyjät ovat Sasha F ja Discharged !
#acidtechno
#early
#frenchcore
#gabber
#hardcoretechno
#hardstyle
#hardtechno
#rawstyle
#uptempo
#industrial
#hana
28 Years of Hard Dance part 2!
Old & new. Fast & hard ug style. Early to Terror. And everything between.
15th July 2023 at @soundfactorybar
lineup (A-Z):
Discharged
Hallucihate
oodeej
Sasha F
///
SASHA F
Sasha F started his career as a DJ around 28 years ago and during this period he definitely showed the world what he was worth as a professional jock and producer. He is now one of the most wanted Hard Dance artists from Finland and his popularity around the globe is rising fast.
His DJ skills have been showcased through Finland where he, alongside other top Finnish DJs, usually headlines the big gigs. Besides that he also is a regular guest at major events like Defqon1, Ground zero, Decibel, Q-base, Qontinent, Freedom festival, Hard island, Reborn Festival, Wish outdoor, Dreamfields and Dance valley And countries like Australia, Croatia, England, Estonia, Germany, Hungary, Russia, Sweden, Thailand, The Netherlands and Italy. He also was a part of the Invasion Tour in the USA doing 20 gigs in 40 nights, coast to coast.
As a producer he is known for releases like Get Hit (together with Crypsis) Hardstyle Matters and Drop 2 Your Knees (together with Chris One). He released his records at different labels, such as Minus Is More, Next Chapter and TiLLT! Records .In May 2013 he joined the Spoontech Records label, as his raw tracks certainly fitted their profile. And now he signed new record deal in big Holland label, RLSVD Records and Upcoming!
With a combination of superb technical mixing and a raw & Hardcore sound, Sasha F leaves each crowd begging for more.
https://soundcloud.com/djsashaf
https://www.facebook.com/djsashaf
///
DISCHARGED
Discharged has quickly become one of the biggest upcoming talents in Finland. Rising in popularity with a sound that was missing in the local scene, he's more than guaranteed to fuck your shit up.
He started DJing in 2012 but his career started to take off in 2020 during the many underground events. After that he decided it was time to pursue a long time dream of moving abroad to study music production and kick his career into a higher gear.
He spent the 2021-2022 winter honing his skills at Never Surrender's studio and came back to Finland stronger than ever with multiple big closing sets and many more smaller ones.
With his versitile style of DJing, Superb track selections and the perfect blend between the rougher side of uptempo combined with the sound of early hardcore and terror he is a force to be reckoned with.
https://www.instagram.com/dischargedhc/
https://www.facebook.com/DischargedHC
///
OODEEJ
OODEEJ (Juha-Matti Mykkänen) is the resident DJ at Sound Factory Bar & Nightclub.
OODEEJ started spinning records in the beginning of the 90s and played his first big warehouse events in 1995. At first he played mostly breakbeat, house, trance, underground techno and hard core type of electronic music.
A fan of all kinds of music OODEEJ can play almost every type of music in his live DJ sets. Without genre limits new and old electronic music with a hypnotic vibe can be found in his set lists. In this event he will play hard hitting Acid Techno & Hard Techno from small underground labels and some Early style Hardcore and Gabber tracks.
Regular visits to clubbing destinations like Berlin (Berghain, Love Parade, Tresor..) and Ibiza (Amnesia, Bora Bora, Cafe Mambo, Hi Ibiza, Privilege, Space Ibiza..) has shaped the sound of OODEEJ and opened his ears (and eyes) how to do things differently.
OODEEJ likes the old school way of mixing and this means no laptops, no beat sync just pure underground music to the people.
FB: https://www.facebook.com/oodeej/
IG: https://www.instagram.com/oodeej/
Mixcloud: https://www.mixcloud.com/oodeej/
Soundcloud: https://soundcloud.com/oodeej
///
HALLUCIHATE
With over a 10 year experience in mixing and producing music, Hallucihate knows his way around harder styles. He isn't restricted by genres and can play anything from slow techno to high speed terror.
However for the upcoming event, he is returning back to the roots, to the sounds that started his whole music journey. Early Gabber and Millennium Hardcore are guaranteed. Be prepared as a hard-veteran for a nostalgia trip through memories, or if you're a new comer to the scene, witness the fantastic sounds of the golden era!
https://soundcloud.com/hallucihate
https://www.facebook.com/Hallucihate
///
Set times:
TBA
///
Age limit: 18 with an i.d.
Ikäraja tapahtumaan 18 vuotta – ota henkkarit mukaan!!
Tickets:
15 € at the door.
10 € advance ticket
Pääsyliput tapahtumaan:
15 € ovelta
10 € ennakkoliput
Soittoajat ja tarkemmat tiedot lähempänä tapahtumaa.
Set times TBA.
Pidätämme oikeudet muutoksiin.
Tapahtuman FB-sivut:
https://www.facebook.com/events/3566023646959405