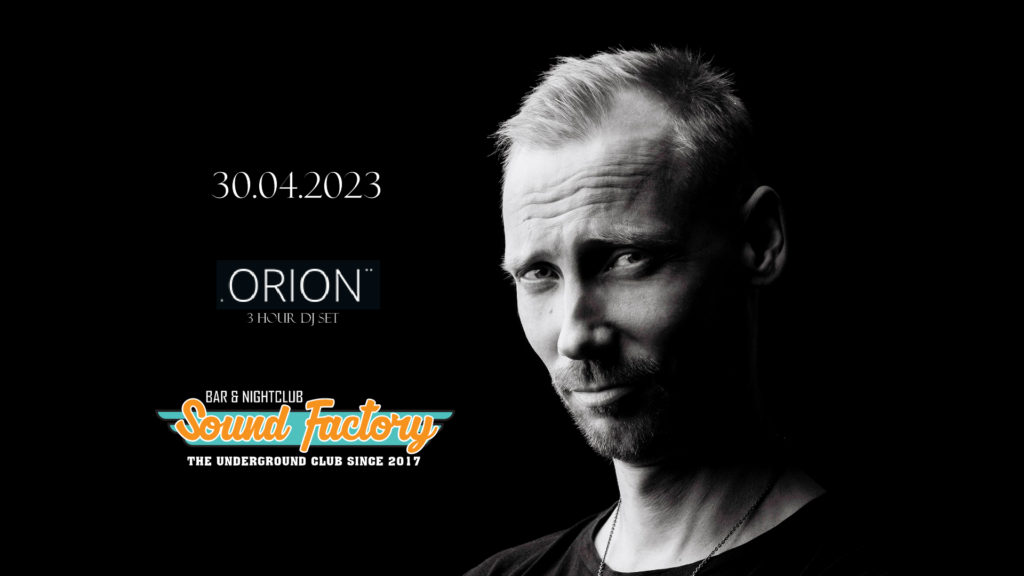 Kajaanin kovimmat vappuaaton bileet on tässä!
DJ Orion Sound Factoryssa vappuaattona 30.04.2023.
YleX:n Uuden Tanssimusiikin Lista ohjelmasta tuttu Orion soittaa kolmen tunnin DJ-setin.
Lineup:
DJ Orion (special 3 hour DJ-set)
ChillJoonas
oodeej
—
DJ ORION BIOgraphy
Starting in the early nineties from the warehouse raves of the industrial city of Tampere, stirring the Northern Finland electronic music scene at the turn of the millennium, settling down in Helsinki in 2006 and living in Berlin 2011-2013, Orion is still one of the busiest and most relevant DJs in Finland.
Probably the most well known of his over 15 year long work on Finnish National Radio YleX, Orion hosts channel's three hour Friday night every week. Next to his work as a DJ and radio host, Orion also runs his own Absence of Facts imprint and regularly releases music on labels like MORD, H-Productions, Suara, Gynoid etc.
No matter if it's about performing live at a sold-out festival or a warehouse party, expanding the possibilities of DJing with the latest technological innovations, hosting an electronic music conference, playing at Ministry of Sound in London or clubs in USA, Germany, Greenland, Russia, Spain etc, headlining New Year's party for 85000 people, 2000 people pool party or hosting live radio broadcasts from Berlin, after over 25 years in the business it's all still happening and it's all labour of love.
"I've been lucky enough to have people around me who haven't been there for money and fame but for the love to music. I guess none of us ever believed how big things could get far in the Finnish outback and I can't give enough credit to all those who have been supporting and helping with all the countless productions."
—
DJ ChillJoonas
ChillJoonas aloitti soittamaan hiphop musiikkia kavereiden bileissä 2000-luvun alkupuolella. Vuoden 2010 tietämillä mies kuitenkin uppoutui tummiin DnB saundeihin ja vain hetkeä myöhemmin Jyväskylään saapunut metsäbile- ja psytrance juna vei mennessään.
Myöhemmin mies on vaikuttanut JKL DJ Schoolin riveissä ja soittaa niin boombap rappiä, suomisaundia, twilight psytrancea, kuin muitakin hämyissävytteisiä konemusasaundeja.
Kajaaniin Joonas muutti pelialalla työskentelyn vuoksi ja levylautasilla viihtyykin toisinaan myös pelimusiikkien remixit – konemusiikkiversioina tietysti.
Tässä tapahtumassa Joonaksen 1,5 tunnin mittainen setti vie hypnoottisiin technon ja progressive housen sekä trancen äänimaailmoihin.
Facebook: https://www.facebook.com/profile.php?id=100091853375060
Soundcloud: https://soundcloud.com/joonas-pylvinen
—
OODEEJ (Juha-Matti Mykkänen) is the resident DJ at Sound Factory Bar & Nightclub .
OODEEJ started spinning records in the beginning of the 90s and played his first big warehouse events in 1995. At first he played mostly breakbeat, house, trance, underground techno and hard core type of electronic music.
A fan of all kinds of music OODEEJ can play almost every type of music in his live DJ sets. Without genre limits new and old electronic music with a hypnotic vibe can be found in his set lists. In this event he will play the closing set.
His set will include in this event classic techno and progressive house tracks with harder underground beats from small label producers. OODEEJ doesn't limit his sets to playing just one electronic music genre.
Regular visits to clubbing destinations like Berlin (Berghain, Love Parade, Tresor..) and Ibiza (Amnesia, Bora Bora, Cafe Mambo, Hi Ibiza, Privilege, Space Ibiza..) has shaped the sound of OODEEJ and opened his ears (and eyes) how to do things differently.
OODEEJ likes the old school way of mixing and this means no laptops, no beat sync just pure underground music to the people.
OODEEJ is also this year part of the Kosmos Festival 2023 lineup and will play in the Gravity stage.
FB: https://www.facebook.com/oodeej/
IG: https://www.instagram.com/oodeej/
Mixcloud: https://www.mixcloud.com/oodeej/
Soundcloud: https://soundcloud.com/oodeej
—
Alustava aikataulu:
21.00 – 22.30 ChillJoonas
22.30 – 24.00 oodeej
24.00 – 03.00 DJ Orion 3 hour DJ set
Ikäraja keikalle ja yökerhoon 18 vuotta.
Musiikin tyyli: Underground Dance Music
Pääsyliput 20 € ovelta. Edulliset ennakkoliput Tapahtumakaupan kautta: https://tapahtumakauppa.fi/sound-factory/
Age limit +18 with an i.d.
https://www.facebook.com/events/1402989863785369